4 Common ATS Pitfalls and 4 Ways to Overcome Them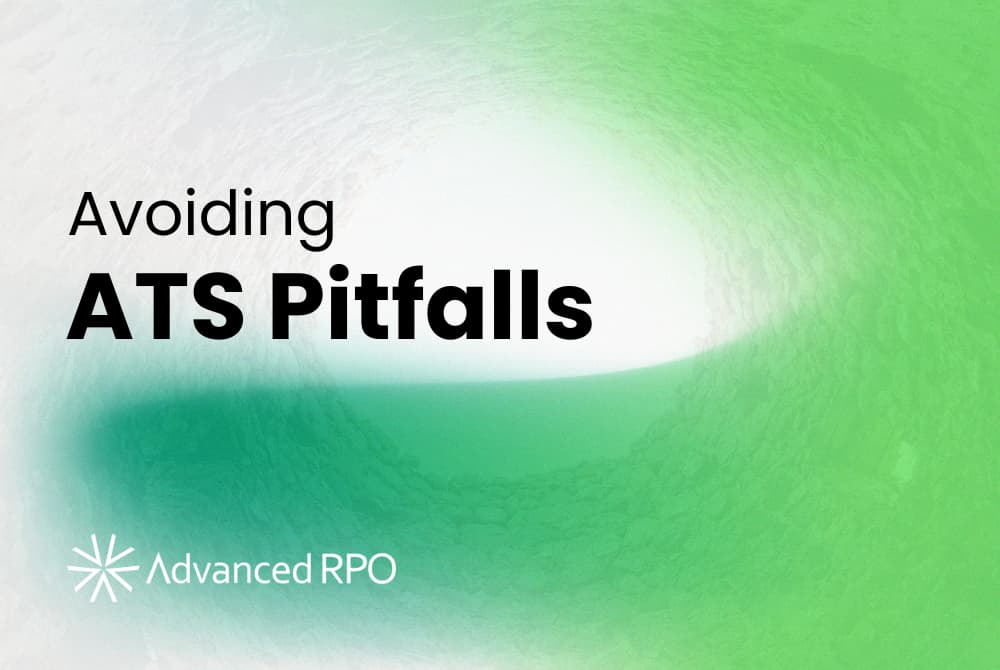 An Applicant Tracking System (ATS) is the backbone of any talent acquisition organization. But it can be the unsung hero or the villain. It all depends on how you approach its implementation and use.
The reality is, despite its critical operational role, proper configuration is often overlooked. This creates issues from day one for recruiters, candidates, and the success of your overall hiring program.
You only get one chance to set an ATS up correctly. You have to make it count.
We've had years of experience working with clients to overcome the challenges they've encountered due to a rushed or poorly planned ATS rollout. Our hope is to help you avoid that same fate by sharing what we've learned.
Let's take a look at four common missteps that plague ATS rollouts and how to overcome them.
The 4 Biggest Challenges You Face When You Get Implementation Wrong
Think of your ATS as your talent acquisition command center. Missteps in building out your ATS impacts how well it will serve your organization months or years down the line.
Undefined workflow. Without a defined workflow from the beginning, an ATS investment is a mostly wasted one. Why do I say that? Because 95% of our potential clients say their existing ATS is lacking. What they don't realize is that it's this way because it wasn't built to fit their specific processes. So, in the end, it doesn't fit their needs.
But it could have–if workflows were considered from the start. An ATS allows you to clearly define your talent acquisition workflow via steps and statuses. You can assign a step for every stage of your process, which may include application, resume review, initial phone interview, hiring manager interview, background check, offer, and hire. Within each step you can then assign statuses like pass, fail, no show, withdraw. It's an iron-clad way to support repeatable efficiency that streamlines the hiring process.
Unproductive reporting. Every decision made during ATS setup has a trickle-down effect. If workflows are not defined, and steps and statuses are not created, then by default reporting capabilities will be limited. This directly impacts recruiter productivity. Why? Because what should be automated reverts to a manual process.
Recruiters must take matters into their own hands to create the reports they need to do their jobs. This often means tracking candidate-specific information in an Excel spreadsheet to achieve the level of detail and insight required across the hiring process. Time is lost. Viable candidates are lost. And the ability to analyze actionable data to see where your hiring process shines or needs improvement is lost. Without that insight, you may never know your time-to-fill, opening-to-fill, or sub-cycle times, and how those impact your hiring success.
Unsubstantiated compliance. To put it bluntly, your ATS is your "stay out of jail" tool. As an employer, you're required to remain compliant with OFCCP and EEOC regulations, which includes everything from how jobs are posted to whether any form of discrimination occurs during the hiring process. An ATS is designed to streamline the capture and reporting of compliance-related information. But, again, it can only do this if set up correctly from the start.
Every time a manual tracking task is done outside the system to compensate for an ATS limitation, the possibility of human error increases and calls into question the accuracy of reporting. Every step of the process must be carefully and completely documented. Any holes in compliance reporting can open you up to the possibility of serious financial and legal repercussions. From a regulatory perspective, if it was not documented, it didn't happen—for better or worse.
Unfulfilling candidate experience. An ATS is an applicant tracking system. For candidates who apply to open positions, the ATS is often the first impression they get of your organization. How your ATS is designed determines how it functions, which directly impacts the candidate experience.
Without the right steps and statuses, you risk losing track of candidates advancing through the hiring process. Or, worse, you risk having candidates get stuck at one stop along the journey. If applicants feel there's a lack of communication or transparency from your organization, they're likely to cut their losses and move on—depending on your ATS, you can leverage automated communication updates to keep candidates in the loop, or quickly identify where candidates are in order to reach out on your own. A disjointed process could cause you to lose out on top talent and earn you a reputation as an organization to avoid.
Optimize ROI from Your ATS Investment
The key to avoiding common ATS missteps is to take a step back prior to implementation and make thorough planning and consideration a priority. Taking into account the following four considerations can help you lay the groundwork for more detailed ATS setup and, ultimately, a better outcome for your organization:
Make sure all stakeholders—and the right stakeholders—have a say. When it comes to an ATS, you want to build with a purpose. Be strategic. That means ensuring the right people are able to give input from the start.
You want the people who understand your workflows and the steps involved to provide input into its design, not just the IT folks tasked with executing it. It's the only way to eliminate the need to track information in a spreadsheet that exists outside your ATS, which impacts the ability to pull data directly from your ATS for your reporting needs. Avoiding these types of manual workarounds at all costs must remain a constant goal, even as business needs and processes change over time.
This 100% means involving recruiters from the start, but it also means pulling in people from other areas within the organization to ensure no points are overlooked. You can even consider involving a business analyst. If you're unsure who to involve, we at Advanced RPO can help you decide—we have a list of steps and standards designed to ensure no stone is left unturned.
Set up the system to fit your unique processes. When setting up your ATS, keep unique variations in your recruiting process in mind. If you focus more on high-volume recruiting or low-volume exempt or niche placements, this will dictate how you set up your steps and statuses. As an example, pre-screening questions are crucial for high-volume hourly hiring, but not so much for one-off, full-time hires.
And, I beg you, do not only set one status per process stage. It's not feasible to manage, track, and report on. There is no way to differentiate between candidates who have been scheduled for interviews, those who haven't, and those who have already spoken to a hiring manager. Or, which candidates have been cleared by background checks and those who have yet to complete one.
Make sure your ATS is integrated with other operational systems. Your ATS is the heartbeat of your recruitment process. It must be able to seamlessly interface with your other recruitment tools and vendors. This includes your HR system of record, your background check and assessment vendors, etc.
The more integrated all workflows are, the more efficiently candidates can be moved through the hiring process. And though it may seem like a significant investment to build these integrations up front, the truth is it ends up costing more in the end due to lost efficiency, reduced scalability, and stilted productivity, especially in high-volume hiring situations.
Leverage ATS capabilities to the fullest extent. Today's ATSs come packed with time-saving functions that could elevate your hiring process even further—if you use them. By setting up your ATS correctly on the front end, you're in a better position to benefit from all its capabilities on the back end. This ranges from pre-screening questions to automatic statusing, scheduling, and communication tools that streamline that application process and support seamless handoffs to candidates.
But don't overlook training when it comes to your ATS investment. Training on processes and the consistent naming of steps and statuses. Training on documentation and reporting. Training on how to determine if a new system request could impact what's already in place, and whether that means the request is beneficial or detrimental to your end goals.
You Don't Need a New ATS. You Need a New ATS Approach.
Talent acquisition is both an art and a science. Your ATS can help with the latter, making the hiring process more precise and concise for both recruiters and candidates.
But it must be designed to shine for your organization. Create as many statuses as it takes to represent your true workflow. Think about the specific reports you'll need to generate and engineer the system backward from that. Empower those who use it to have a say in how you design it. Make it work for you.
Time and time again we've helped our clients achieve amazing transformations once their ATS was redesigned with their process needs in mind. We can help you reach the same result. Reach out today to get started.