What is recruitment
process outsourcing (RPO)?
RPO is a way to outsource some or all of your recruitment process to a team of experts. It can be a long-term, full cycle solution to bolster in-house talent acquisition teams. RPO can also be a short-term, project-based solution for handling surges in employment demand. Watch our RPO 101 video to see how it works.
How does an RPO solution work?
RPO solutions allow you to bring in a team of seasoned experts to handle your recruiting process. RPO brings proven people, processes, passion, and experience to your recruiting function, allowing you the time and resources to focus on your core business. While you retain workforce control, RPO ensures you no longer have to manage hiring ebbs and flows.
Ready to learn more? Sit back and watch how we're solving hiring challenges with recruitment process innovation.
Is an RPO solution right for my business?
That's a big question, and an important one. Every business and workforce is unique, which is why we offer so many flexible RPO variations including full cycle, custom, project RPO and high-volume RPO solutions.
Advanced RPO solutions are built to be full of possibilities, just like your business. We offer custom hiring solutions that meet you where you are and achieve your hiring goals. Explore them here to see if one might be right for you and then contact us, and we can help you determine if RPO is the right choice for your business.
I need to hire a lot of people, fast. Can RPO meet high-volume hiring needs?
Highly systematic and scalable, RPO is an excellent solution for high-volume hiring. Read about our high-volume client solutions here.
Is RPO only for full-time talent?
RPO is a flexible solution that can adapt to all your hiring needs and worker classifications.
The Difference Between
Advanced RPO and Recruiting Vendors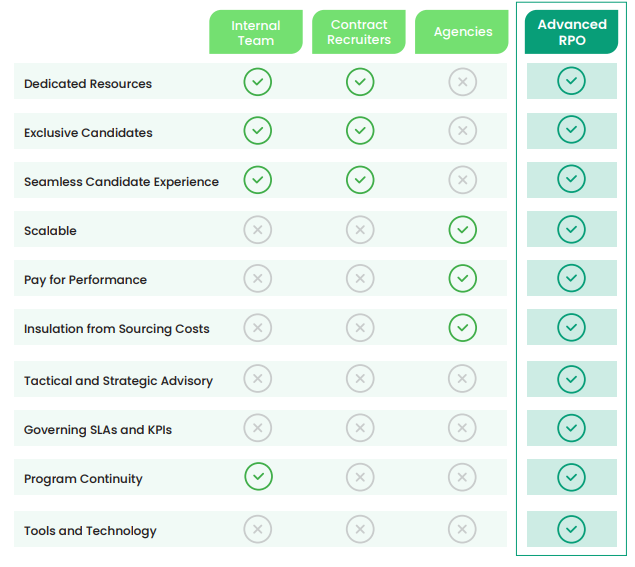 Talk to an RPO expert.
Wondering if RPO is the right way to tackle your hiring challenges?
Our experts can help you find the answers.
RPO resources to explore, study, and share.
We've built a library of RPO resources and hiring insights.
Use them to learn how RPO can unlock your hiring potential.
eBook
Your Guide to (Finally) Understanding Recruitment Process Outsourcing
This eBook provides everything you ever wanted to know about RPO.
Blog
RPO Providers: Choosing the One that is Right for You
Infographic
The Difference Between RPO and Recruiting Vendors
Webinar
Making the Case for Recruitment Process Outsourcing
This webinar takes a look at how RPO stands apart from traditional contract recruiting and staffing agencies in the race to build a better workforce.
We know what good RPO looks like.
And we share!
Enjoy our entire library of RPO resources and tools.
Ready to turn recruiting and hiring challenges into workforce advantages?