Recruiting & Hiring Trends to Prepare for in 2023
First Quarterly Talent Acquisition Insights Report of the Year
Is salary transparency a good thing? Are hiring freezes replacing layoffs? Are workers still asking, "should I stay or should I go"? Have 2022 issues carried over into 2023?
Our latest Industry Talent Acquisition Insights Report tackles these questions and so much more. It's a new year, and it's time to frame up your hiring outlook to help you plan for success.
Here's a sneak peek of the information we've compiled to give your recruiting gameplan a boost.
2023 is picking up where 2022 recruiting trends left off
We're seeing four talent acquisition realities roll over into the new year:
High worker expectations
Misalignment between worker and employer expectations
Demand for pay transparency
Change remaining the only constant
What does this mean for you and your hiring efforts?
Well, we don't want to give it all away. But we will say the need for businesses and CHROs to obtain top talent is a bigger worry given current downsizing and hiring freeze trends. With fewer opportunities to hire, it's important to do all you can to stand out, from being up front about salary to getting creative with internal role allocations.
Gaining a recruiting & hiring advantage takes expert advice
Do you ever wish you had direct access to industry experts and their sage wisdom about what's going on in the market? If you check out our report, you will. Advanced RPO's Jenna Hinrichsen shares her insider advice on how to win in today's labor market. Every little bit helps when you're trying to gain hiring ground in 2023.
DEI evolves in 2023
2023 is the year to grow, expand, and refine diversity, equity, and inclusion (DEI) initiatives across the organization. 81% of workers would leave their job if their employer lacked a commitment to DEI in the workplace–so it's crucial to get it right. Both to attract candidates, and because it's simply the right thing to do.
With that in mind, our report highlights the 2022 DEI trends to leave behind in the new year, and what it really takes to ensure DEI remains in the spotlight.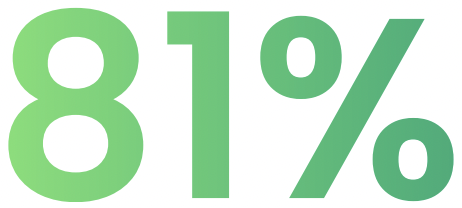 of workers would leave their job if their employer lacked a commitment to DEI in the workplace.
The state of talent acquisition differs across industries
While there are overarching talent acquisition trends and challenges across the board, the fact of the matter is that they impact each industry in unique ways. While tech hiring continues to see unbridled talent demand, manufacturing is seeing this for only select positions. And while life sciences is still recovering from layoffs and heightened competition, manufacturing has already set its sights on prioritizing retention. These are just a few of the industry-specific trends we tackle in the report.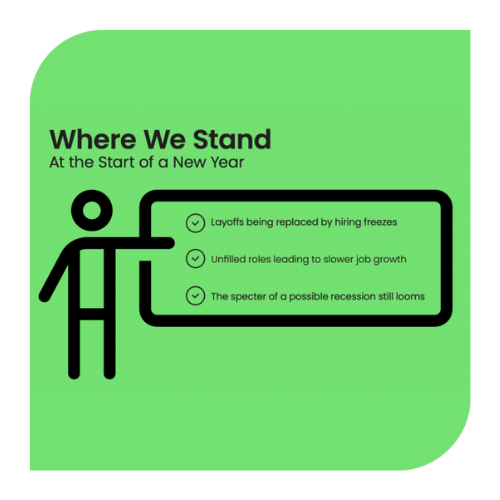 To make headway in the 2023 hiring arena, it takes all the knowledge and insights you can get. Think of this report as one tool in your recruiting toolkit–a tool that can help you move more confidently in the direction of achieving your hiring goals.
Another tool you can add to your toolkit is working with an RPO. We can take the discoveries unearthed in this report, and connect the dots to what they mean for your organization and your industry in this new year. We're ready to design your ideal talent acquisition strategy–let us know how we can help.
Learn more about these hot topics and other impactful talent acquisition data we uncovered through our research.
Compare Q1 2023 recruiting & hiring trends with our previous quarterly reports: