Q2 2023, New View: Of-the-Moment Hiring Trends
Employment Insights Impacting Business this Quarter
Is labor hoarding still happening? Is skills hiring the answer to the worker shortage? Is a rolling recession on the horizon? Our Recruiting Insights and Employment Trends Report answers these questions, backed by research findings, analyst projections, and industry insights from our expert team.
Today's quickly changing labor environment requires constant introspection and refinement of your recruiting strategy. As we make our way through Q2, this report will help you pinpoint your best opportunities to pivot your strategy to meet your hiring needs.
Q2 2023 is all about the consequences and opportunities of the talent shortage
We're seeing three talent acquisition trends stand out this quarter:
Get the report
Labor hoarding and salary postings pushing wage growth
Hiring for skills to overcome persistent and emerging talent gaps
Embracing Baby Boomers (and their expertise) to avoid a hiring bust
How are these trends impacting you and your efforts to ramp up recruiting? Small hint: it depends on your hiring approach—the more forward-thinking and strategic you are in your processes and protocols, the more you'll stand out in a competitive hiring environment.
Spotlight on pay equity
One of the biggest trends making waves this quarter is pay equity. But it's so much more than a trend. It's an important driver of workforce equality and a differentiator that can make or break recruiting efforts. Take a look at our report to see why it's capturing attention, what it really means, and how you can find resources to make it a reality.
Recruiting realities vary by industry
Are the same Q2 trends impacting all industries? Yes. Are they having the same impact? No. Labor demand and hiring pace is greater for manufacturing than life sciences, where the current economy has slowed the recruiting pipeline. Energy is experiencing high turnover, which continues to impact talent acquisition. Life sciences, on the other hand, is seeing a significant rebound, creating greater competition for scarce talent. We share more industry-specific highlights and observations throughout the report.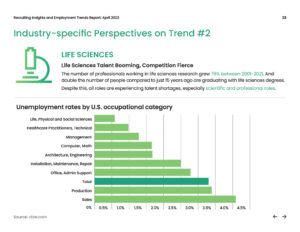 Solving hiring challenges with RPO
Have you considered how an RPO partner can factor into your hiring equation? From compensation packages to employer branding to accelerated recruiting, an RPO partner can garner more talent—and top talent—for your company. This report helps shine a light on the potential impact that an RPO's external expertise can bring.
Download our latest report to make more informed decisions around your hiring strategy this quarter and beyond. If you'd like to talk more about any of these topics, or need help developing your best recruitment strategy, we're here to help. Let's talk!