Quarterly Talent Acquisition Industry Insights Report October 2022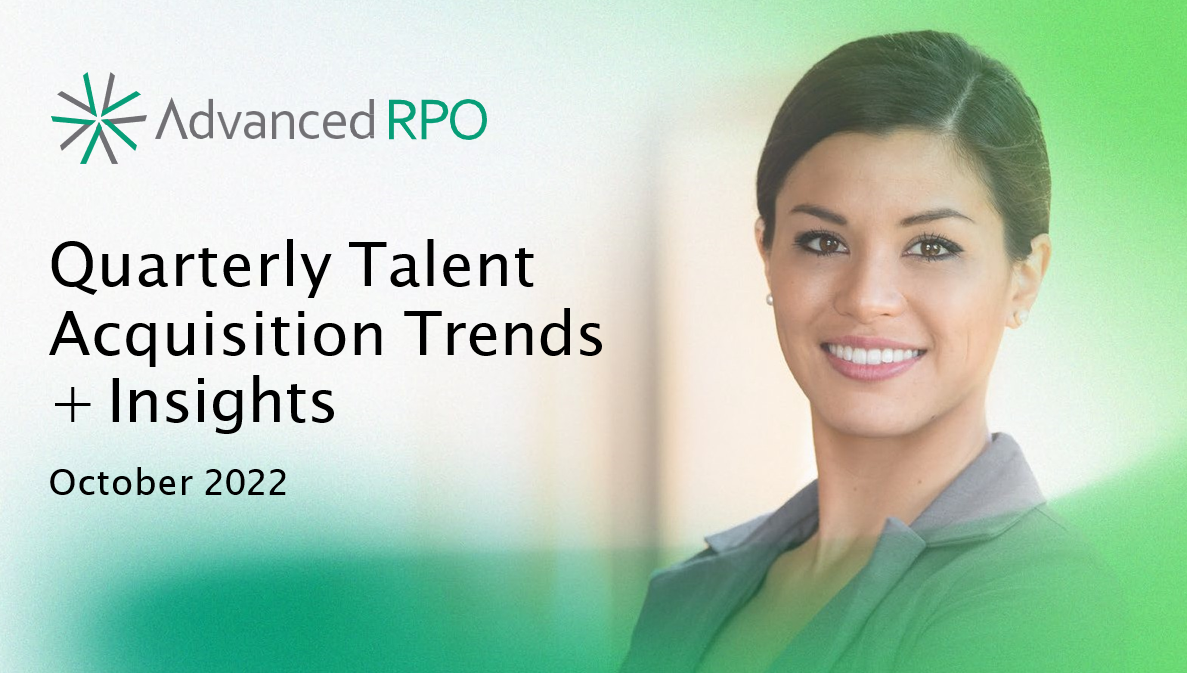 Diving Into the Quarterly Talent Acquisition Industry Insights Report
Are we in a recession? Are employers still hiring? Are candidates still in control? Are "quiet quitting" and "quiet firing" a new phenomenon?
Employers have A LOT of questions and VERY FEW concrete answers. That's why our most recent Quarterly Talent Acquisition Industry Insights Report gets straight to the point. We start off with the latest data and commentary on these top four questions to make it all, well, at least a little bit clearer. Unfortunately, the answer to most of these questions is "it depends on who you ask."
While we still need to see some of these macro-level business and hiring trends play out, there are a few different areas where the direction forward is clear.
Hiring challenges are here to stay–for 1,000 different reasons.
Recruiting is still a slippery slope where the path is oftentimes unmarked. This deep into our COVID era of work, many employers expected to enter a steady, new-normal state. What we've learned is that our new normal is actually a state of constant change.
Hourly vs. salaried roles. Remote vs. in-person work. Manufacturing vs. retail. Candidate availability, hiring needs, compensation demands, time-to-fill…it all changes based on multiple variables. There's no overarching playbook of best practices that can be applied broadly across hiring today.
To hire effectively takes a nearly custom approach per open role. We know this isn't the best news for recruiters or hiring managers. But it's the reality of today's market. Each position must be properly researched in order to understand who's out there and what it takes to hire the right candidate. What do recruiters say is happening right now?
63% have had new hires leave in the first 90 days
68% of recruiters are seeing salaries increase for new hires
72% have worked with candidates who have received multiple offers simultaneously
In the report, our team shares that these challenges can be leading indicators for changes that need to be made in the hiring process. Perhaps the employer value proposition isn't clear, or hiring managers need to get realistic about rates, or decisions need to be made faster. Recruiters need to flex to meet candidates where they are – and give them what they need.
If you're going to do your homework in just one area–make it compensation.
Before we talk about candidates, let's talk for just a minute about those who are currently employed. Employees are looking to capitalize on the massive wage inflation we're experiencing right now. Sure, we all know that candidates are expecting employers to "show them the money," but so are employees–and they're threatening to leave if their demands are unmet.
89% of employees are currently expecting a raise
46% of employees expect an annual raise of 5% or more
16% of employees expect an annual raise of 10% or more
To both attract candidates and retain employees, employers must think about their total compensation, inclusive of pay, benefits, perks, and opportunities. AND, they must continuously compare it to their competition.
In our experience with clients, it's common practice in hourly hiring, for example, to raise the pay rate to $1 more than the competitor next door. We've even had one experience where a company posted a giant sign advertising a higher pay rate, and candidates started ghosting their interviews to inquire about the higher-paying employer.
To avoid a bidding war for talent, employers need to think strategically about what it is that they're actually offering employees. The pay rate or salary is just the start. How do your benefits compare? What are your career path options? How strong is your culture and employee value proposition?
It's important to reframe the way we think about hiring. It's not about looking for the light at the end of the tunnel. It's about finding a better flashlight to help you navigate through it, with as few missteps as possible. That's where an RPO comes in. Take a look at the report, and let us know if we can help you develop a strategy for 2023 with a clear, well-lit path forward.