Advanced RPO Unveils Refreshed and Modernized Website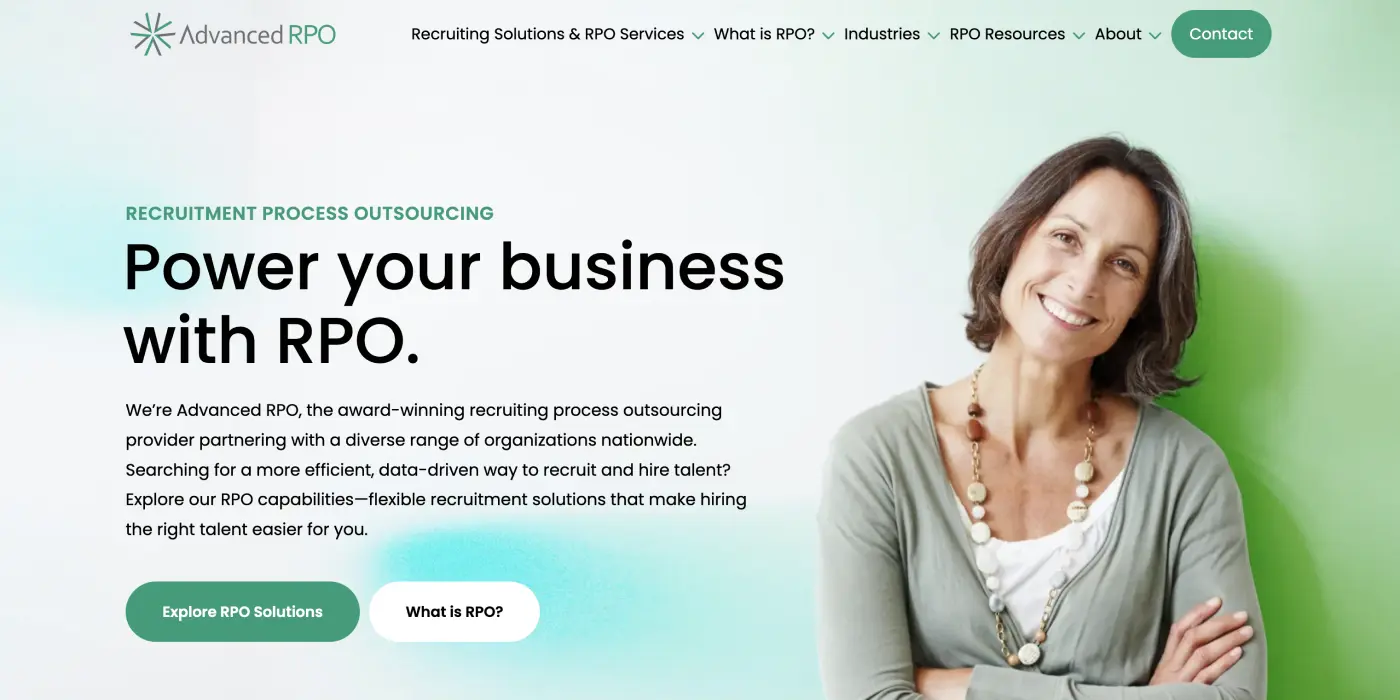 Design reinforces company's focus on building authentic relationships to solve hiring challenges
Chicago, IL – September 30, 2022 – Advanced RPO, a recruitment process outsourcing (RPO) company serving the mid- and large-market, introduced today its updated website featuring a bright new design and enhanced user journey showcasing the company's resolve to always be authentic with clients, prospects, industry leaders and employees. The modern look stays true to Advanced RPO's practice of combining innovative technology with the power of the human touch to solve today's complex hiring challenges. The site also allows the company to more fully engage with visitors to communicate the value Advanced RPO brings to the table.
"Our recruitment teams are squarely focused on delivering improved business outcomes for clients through investing in and caring for the health of their hiring programs. It was important to us that our website reflect this unique client-centered, partnership approach," said Pam Verhoff, President and CEO, Advanced RPO. "We see ourselves as an extension of the client's team and we're dedicated to building consultative relationships rooted in authenticity and transparency. Our clients know we'll always be open and honest with them, and that commitment is clear in this new design."
The new Advanced RPO website palette remains true to the company logo, which is centered around a vibrant teal, but also infuses select complementary shades throughout. The design incorporates a subtle, white splash to convey transparency and employs an open font that enhances readability. The photography features images of people looking directly into the camera, communicating Advanced RPO's friendly, collaborative approach to building strong relationships. The website also prioritizes the user experience with streamlined navigation, easy-to-access information and multiple avenues to connect with the Advanced RPO team including by phone, email and chatbots.
"In our experience, it's the combination of technology and relationships that delivers the best results and our new website is an excellent representation of these Advanced RPO core values," added Verhoff. "We're thrilled with the results and hope our clients, candidates, and team are as well."
About Advanced RPO
Advanced RPO powers the recruiting function of enterprise and high-growth, mid-market organizations. Behind our flexible hiring solutions is an experienced, consultative team. We partner with clients to create recruiting scalability and workforce agility through our high-touch, technology-enabled approach. Advanced RPO clients report 95+% hiring manager and candidate satisfaction, and the company is a ClearlyRated Best of RPO® Award winner with an industry leading Net Promoter Score. We know that finding and hiring the right talent is complex. At Advanced RPO, we make it easier for you. Advanced RPO is part of the Advanced Group family of companies. For more information, visit www.advancedrpo.com.
Contact:
Karen Pressman
ClearEdge Marketing
917-650-2159
kpressman@clearedgemarketing.com