Nine Advanced RPO Leaders Honored with "2023 Women in Talent Acquisition" Award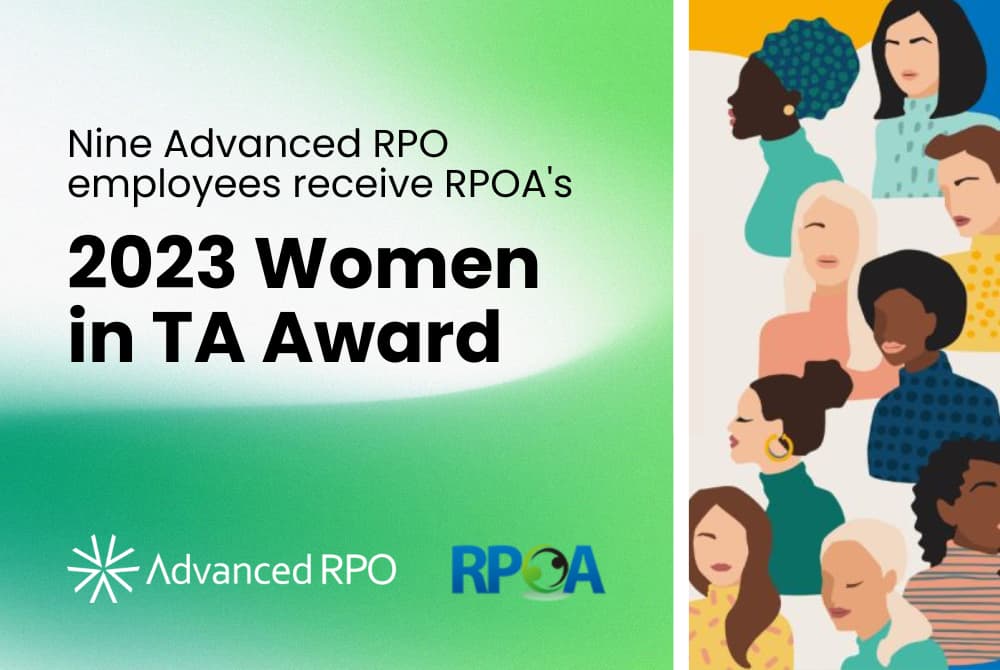 In honor of Women's History Month in March, the Recruitment Process Outsourcing Association (RPOA) is celebrating women in talent acquisition who are making countless contributions to their teams, companies, and communities.
Chicago, IL – March 1, 2023 – Advanced RPO, a recruitment process outsourcing (RPO) company serving the enterprise and mid-markets, announced today that nine of its employees, including President and CEO Pam Verhoff, received the 2023 Women in Talent Acquisition recognition from the Recruitment Process Outsourcing Association (RPOA). This is the third annual RPOA Women in TA Awards, which celebrates women working in the RPO industry.
Advanced RPO's President and CEO, Pam Verhoff, responded with, "I am incredibly proud of the strong team of female leaders within Advanced RPO for the impact they are making, not only on our industry today, but for future generations of female leaders to come. This recognition, by their peers in the RPO industry, is validating Advanced RPO's commitment to providing a supportive work environment that elevates women leaders. Join me in celebrating my 8 colleagues!"
The nine Advanced RPO honorees were among seventy-eight women who were nominated by their peers and received one of two awards introduced by RPOA: the Influential Woman in RPO for women who have made significant contributions to the RPO industry and their organizations for over five years, and the Rising Woman in RPO award for women who've been in the industry for five or fewer years.
President and CEO, Pam Verhoff, was recognized for her extensive experience building RPO businesses and solutions, as well as developing growth strategies and high-performing teams. Pam, along with eight other Advanced RPO team members received the Influential Woman in RPO and Rising Woman in RPO awards.
Influential Woman in RPO Award Winners
Rising Woman in RPO Award Winners
About Advanced RPO

Advanced RPO is the industry's most trusted and respected hiring partner, serving high-growth, mid-market and large organizations. Behind our flexible hiring solutions is an experienced, consultative team. We partner with clients to create recruiting scalability and workforce agility through our high-touch, technology-enabled approach. Advanced RPO clients report 95+% hiring manager and candidate satisfaction, and the company ranks among the Inc. 5000 list of the fastest-growing private companies. We know that finding and hiring the right talent is complex. At Advanced RPO, we make it easier for you. Advanced RPO is part of the Advanced Group family of companies. For more information, visit advancedrpo.com.
Media Contact

Tim Oyer
Vice President
Advanced RPO