Q4 2020 Talent Insights Report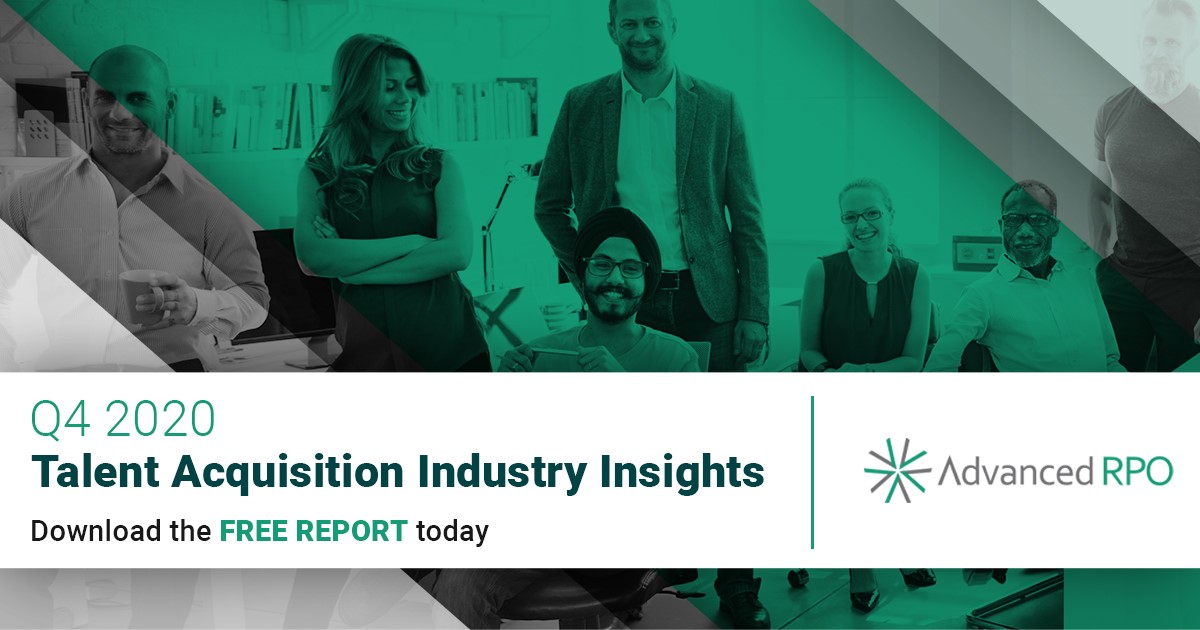 Each quarter Advanced RPO publishes a comprehensive digest of news, trends and insights impacting the talent acquisition industry. Our goal is to give TA leaders an informative guide on what's new and next in the space, so they can ensure their recruitment strategies are reflective of the current market.
We can all agree that 2020 was unlike any other year, and the COVID-19 pandemic changed the course of the industry in both immediate and lasting ways. Our Q4 Talent Acquisition Industry Insights Report examines just how the economy, the jobs market and the workplace were affected, as well as offers some insights on what's on deck for 2021. Here's a few of the biggest takeaways from our last report of 2020.
The unemployment rate sets records. In total 9.8 million jobs were lost in 2020. The unemployment rate was an all-time low of 3.5% in February and skyrocketed to 14.7% in April, after the pandemic-induced business restrictions forced many companies to furlough or lay off workers. The rate dropped back down to 6.7% by the end of December, as companies set out to rebuild their workforces. That said, economic experts have differing opinions on when we'll see the unemployment rate return to pre-pandemic levels. There are signs of economic hope, including levels of currency in circulation not seen since World War II, signaling recovery.
Remote work for now… or forever? The move to wide-scale remote work was a huge story of 2020, with almost half of all employees working from home as the business world largely moved online. With the pandemic not quite yet in the rearview mirror, companies are continuing this trend into 2021. The jury is still out on whether or not we'll continue to see the move back into the office, as companies are realizing the benefits of accessing larger pools of talent without geographic constraints. Having the option to work remotely full time is also appealing to many job seekers, and the number of people moving out of big markets into areas with a lower cost of living is on the rise.
Diversity, equity and inclusion (DEI) efforts become a differentiator. The biggest non-pandemic-related trend of 2020 was the heightened interest and awareness of corporate DEI efforts. A diverse workforce is an important factor when evaluating companies and jobs, according to 75% of employees and job seekers. Candidates and employees alike are demanding more visibility into corporate DEI initiatives, and more importantly, the tangible ways that businesses are putting these plans into action to increase diversity.
The full report is available for download now, exploring these trends and many more. Please reach out to our team if you'd like to discuss any of these recruiting trends or learn how partnering with Advanced RPO can help you better weather the market uncertainty ahead.
Recruitment Process Outsourcing (RPO) solutions from Advanced RPO can help you evaluate and improve your hiring processes to get the talent you need to succeed. Contact us today to learn more about our high-touch solutions.