Advanced RPO Recognized Among Top RPO Providers by HRO Today's Baker's Dozen List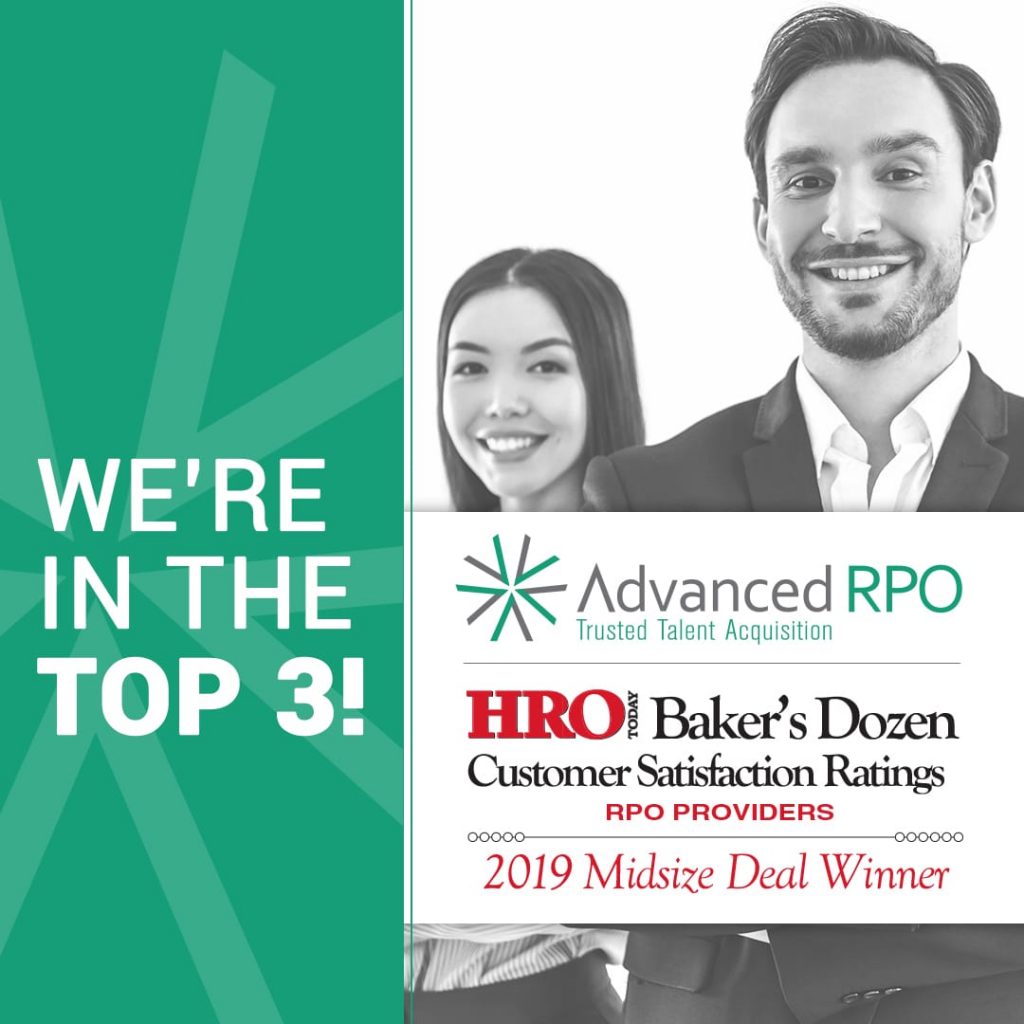 Chicago, IL (September 20, 2019) – Advanced RPO, a recruitment process outsourcing company serving the mid-market industry, has debuted at number three on HRO Today magazine's 2019 RPO Baker's Dozen list. The Baker's Dozen list is a ranking system that analyzes the RPO space at both the enterprise and mid-market levels.
"We are thrilled to be named to the 2019 RPO Baker's Dozen list as one of the top mid-market providers," said Pam Verhoff, President at Advanced RPO. "This recognition validates our position as a leader and reinforces our commitment to deliver the very best in RPO services that drive significant results for our clients and their organizations."
The rankings are based solely on information obtained from anonymous online surveys sent to clients. RPO organizations are assessed on the size of deals, breadth of service, and quality of service. Results are then analyzed using a predetermined algorithm that weighs questions and categories. Scores are calculated in all three subcategories and also include an overall score.
"We are pleased to recognize Advanced RPO's debut as the number three mid-market leader and provider of RPO services," said Elliot Clark, CEO of SharedXpertise and publisher of HRO Today. "We congratulate the organization and their ranking on the 2019 Baker's Dozen list and acknowledge the work they have done to elevate recruitment process outsourcing services within the industry."
The Baker's Dozen award follows Advanced RPO's recent placement on the Inc. 5000 fastest-growing private companies list. The companies named to the Inc. 5000 list are competitive in their markets and have demonstrated incredible growth according to a percentage of revenue generated from 2015 to 2018.
About Advanced RPO
We know that finding and hiring the right talent is hard. At Advanced RPO, we make it easier for you. With extensive experience, our team enables mid-sized companies to provide a results-driven talent acquisition program. We deliver an optimized recruitment solution that can quickly adapt to varying business needs so our clients are prepared to overcome any hiring challenge. Advanced RPO is part of the Advanced Group and ranks among the Inc. 5000 list of the fastest-growing private companies. For more information, visit www.advancedrpo.com.
Media Contact
Stephanie Iannotta
Senior Manager, Communications
P: (312) 980-2865
siannotta@advancedgroup.com