Advanced RPO's Jenna Hinrichsen Accepted into Forbes Human Resources Council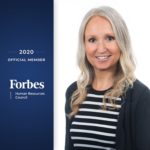 Talent acquisition expert joins invitation-only community for HR executives
CHICAGO (March 4, 2020) — Advanced RPO, a recruitment process outsourcing and talent acquisition organization, today announced that Manager of Sourcing and Talent Strategy Jenna Hinrichsen was accepted into the Forbes Human Resources Council, an invitation-only community for HR executives across industries.
"We are honored to welcome Ms. Hinrichsen into the community," said Scott Gerber, founder of Forbes Councils, the collective that includes Forbes Human Resources Council. "Our mission with Forbes Councils is to bring together proven leaders from every industry, creating a curated, social capital-driven network that helps every member grow professionally and make an even greater impact on the business world."
Hinrichsen is a talent acquisition expert with a broad range of experience in staffing, RPO and corporate recruiting. At Advanced RPO, she develops sourcing strategies for a variety of positions across geographies, using research, networking, and database mining to develop a continuous and diverse prospective candidate pipeline. An active recruitment leader, she contributes to the direction, forecasting, and decision-making process, manages third-party relationships, and partners with the business development team on prospecting strategy.
"Seeking the right candidates and connecting them with quality opportunities begins with building a great recruiting team," said Hinrichsen. "As a former staffing consultant and lifelong learner, my passion is helping organizations across industries solve their most complex recruiting challenges. I'm thrilled to join the Forbes Human Resources Council to continue engaging with, learning about, and offering my expertise to the HR community."
Hinrichsen was vetted and selected by a review committee based on the depth and diversity of her experience. Criteria for acceptance include a track record of successfully impacting business growth metrics as well as personal and professional achievements and honors. As a Council member, Hinrichsen will connect and collaborate with respected industry leaders and will share expert insights in Forbes.com articles and Q&A panels.
About Forbes Councils
Forbes Councils is a collective of invitation-only communities created in partnership with Forbes and the expert community builders who founded Young Entrepreneur Council (YEC). In Forbes Councils, exceptional business owners and leaders come together with the people and resources that can help them thrive.
For more information about Forbes Human Resources Council, visit forbeshrcouncil.com. To learn more about Forbes Councils, visit forbescouncils.com.
About Advanced RPO
We know that finding and hiring the right talent is hard. At Advanced RPO, we make it easier for you. With extensive experience, our team enables mid-sized companies to provide a results-driven talent acquisition program. We deliver an optimized recruitment solution that can quickly adapt to varying business needs, so our clients are prepared to overcome any hiring challenge. Advanced RPO is part of the Advanced Group and ranks among the Inc. 5000 list of the fastest-growing private companies. For more information, visit www.advancedrpo.com.
Media Contact:
Jen Iliff
VP of Marketing
Advanced RPO
(p) 720-409-4341
jiliff@advancedgroup.com