How to Win the Race for Hourly Talent: RPOA Webinar Recap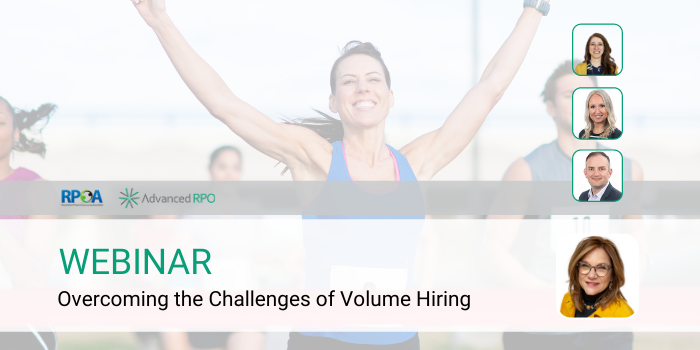 A race for candidates. That's how our team described the current hiring climate on our latest webinar with the Recruitment Process Outsourcing Association (RPOA) whom we partnered with to discuss "Overcoming the Challenges of Volume Hiring." There's no question that high-volume hiring is difficult in today's environment. In the webinar, our team shared that it's not about what you do, but rather how you do it that will help you succeed. We're sharing the highlights below, but listen to the webinar recording to dig deeper into the conversation.
Our VP and President Pam Verhoff kicked off the webinar by talking about the elephant in the room. There's a new competitor for hourly talent, and it's the federal government. The unemployment stimulus and tax savings being provided to Americans over the next few months is in some cases double the hourly rate that companies are paying workers. This comes in the form of unemployment benefits, stimulus checks, tax breaks and tax returns. We shared a slide on what this breakdown looks like, and it's worth a look.
The new high-volume hiring playbook
During the webinar Pam, along with Account Manager Kevin Armstrong and Manager of Sourcing and Talent Strategy Jenna Hinrichsen, outlined four keys to success, but the biggest one we shared was around process. If these three things are happening to your company, it's time to take a long, hard look at your processes.
Your apply rates are low. Here's where the race comes into play. Companies need to assume that for every candidate who applies, they're also applying for 5-10 other roles. If you're not getting enough applications, but offering similar roles and rates, your process is likely the culprit. Candidates need to be able to apply in just minutes.
You're losing candidates halfway through. Once a candidate presses "submit" on their phone, the clock really starts ticking. With each step you add into your hourly hiring process, you'll lose 50% of candidates. If you over-complicate your process, you'll never get the volume of candidates you need to bring in high-quality talent.
You're being ghosted at the end. Another "tell" that your process is working against you? An increase in ghosting and no-show rates. For a long time, recruiters and hiring managers placed the blame on irresponsible and unreliable candidates. In reality, one of the 5-10 other companies competing for your candidate will likely beat you to the punch. Our team recommends the end-to-end process can take one week or less, and still be thorough and result in quality hires.
What else do we cover in the webinar?
What goes into truly understanding each market
Where you're best served by technology in the process, and where you're not
How quickly the market is changing (hint: it's sometimes hourly), and how often you need to access data and shift your strategy
We jam packed this session with everything you need to know to put your best foot forward when it comes to high-volume hiring. Be sure to listen to the recording to maximize the quantity and quality of your candidates.
About Advanced RPO
Recruitment Process Outsourcing (RPO) solutions from Advanced RPO can help you evaluate and improve your hiring processes to get the talent you need to succeed. Contact us today to learn more about our high-touch solutions. For help optimizing your hiring process, send an email to Tim at toyer@advancedrpo.com.