President and CEO Pam Verhoff Named "HR Superstar" for Fourth Consecutive Year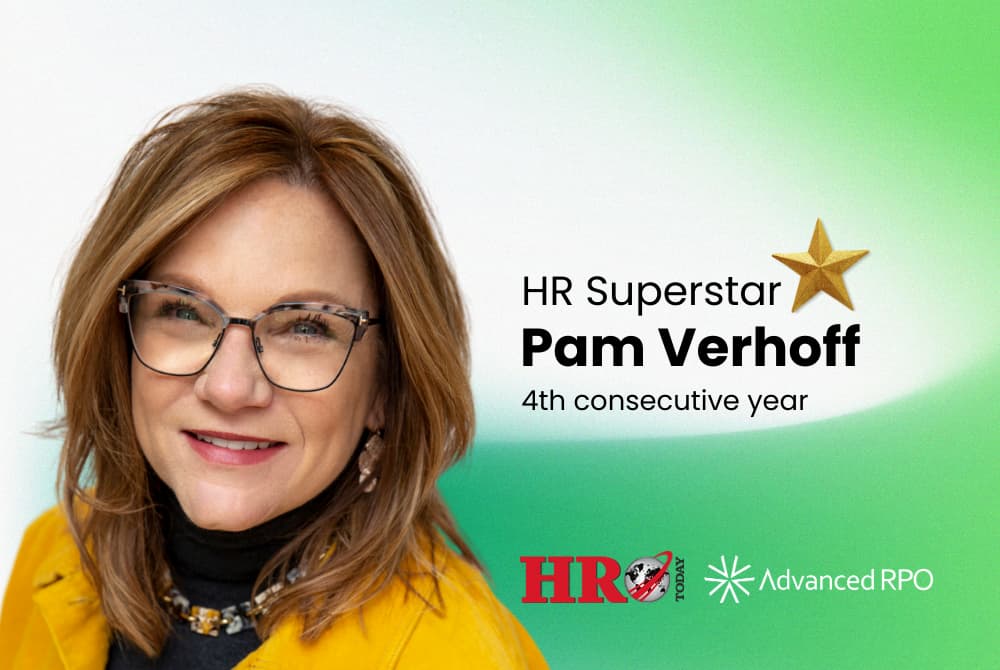 HRO Today recognizes leaders for their leadership in guiding the industry through disruptive times.
Chicago, IL – December 22, 2022 –– Advanced RPO, a recruitment process outsourcing (RPO) company serving the mid and large market, announced today that President and CEO Pam Verhoff has been named a 2022 HR Superstar by HRO Today for the fourth year in a row. Honorees were nominated by clients, industry leaders, and influencers, as well as the HRO Today staff. A complete list of all winners is available here.
"Cookie-cutter, one-size-fits-all RPO solutions just can't move the needle for businesses within this uncertain economy and ever-changing hiring market. Hiring success takes an innovative, collaborative recruiting partner," said Pam Verhoff, President and CEO, Advanced RPO. "This is exactly what has differentiated Advanced RPO since the very beginning–and has earned our spot on this list. I'm grateful to our incredible team of experts, and share in this recognition with them."
In 2022, CEO was added to Verhoff's title in recognition of her leadership and contributions to the organization. An accomplished, forward-thinking leader with more than 25 years of expertise in RPO strategy and execution, Verhoff is passionate about cultivating highly engaged teams committed to delivering talent acquisition results that drive business impact.
"Amidst distress, our 2022 HRO Today HR Superstars rose to the challenge of guiding workforces through fickle times. Unequivocally, they redesigned strategies, adopted cutting-edge technologies, and remained agile to meet current and future needs," the editors of HRO Today said in announcing the awards. "It is because of them that their companies and industries were able to maneuver quickly and successfully into a new normal."
Verhoff's recognition is the latest in a number of recent achievements for Advanced RPO. The company was honored with a ClearlyRated Best of RPO® Award as well as a spot on the Inc. 5000 list. Seven of its leaders were also named 2022 Women in RPO by the Recruitment Process Outsourcing Association.
About HRO Today and HRO Today Global
HRO Today and HRO Today Global are the properties of SharedXpertise Media and offer the broadest and deepest reach available anywhere in the HR industry. Our magazines, web portals, research, e-newsletters, events, and social networks reach senior-level HR decision-makers with rich, objective, game-changing content. Our No. 1 strength is our reach. HR leaders rely heavily on the HRO Today's Baker's Dozen rankings across six different categories when selecting an HR service provider.
About Advanced RPO
Advanced RPO powers the recruiting function of enterprise and high-growth, mid-market organizations. Behind our flexible hiring solutions is an experienced, consultative team. We partner with clients to create recruiting scalability and workforce agility through our high-touch, technology-enabled approach. Advanced RPO clients report 95+% hiring manager and candidate satisfaction, and the company is a ClearlyRated Best of RPO® Award winner with an industry leading Net Promoter Score. We know that finding and hiring the right talent is complex. At Advanced RPO, we make it easier for you. Advanced RPO is part of the Advanced Group family of companies. For more information, visit www.advancedrpo.com.
Contact
Karen Pressman
ClearEdge Marketing
917-650-2159
kpressman@clearedgemarketing.com