Hiring in a Recession. What's Lost? What's Gained?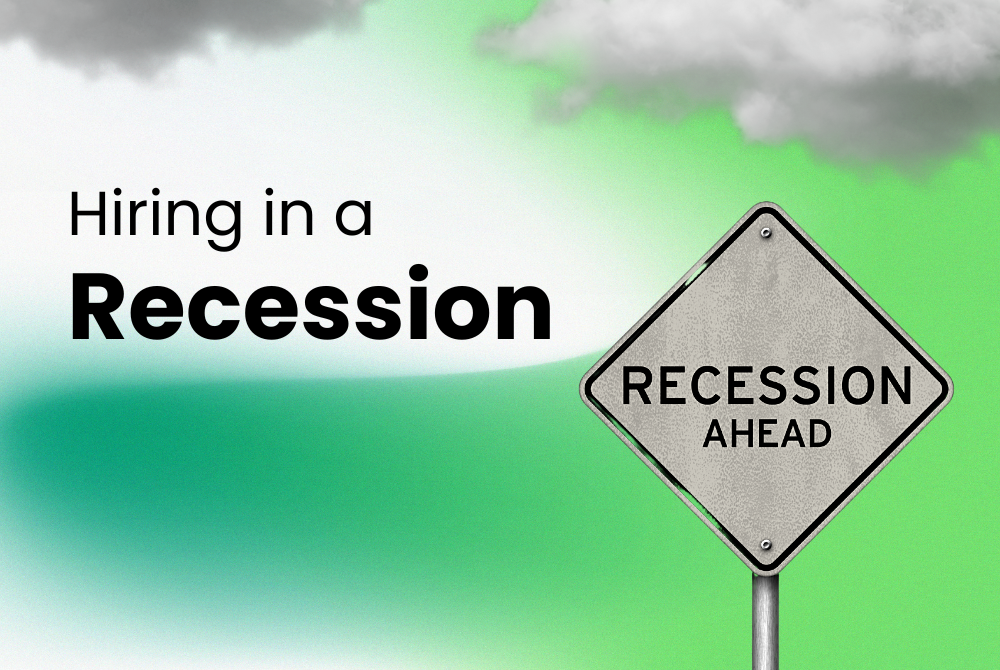 Recessions come and go. They have always been a repeating hallmark of the modern economic cycle that can take heavy tolls on workers as markets adjust to business losses. With the Great Recession of 2008, almost 9 million U.S. workers lost their jobs and unemployment jumped to a peak of 10% in 2009. Prior to that, in 2000 the Dot-com bust saw around 5 million jobs lost and the tech unemployment rate increased by 25%.
While economists and the National Bureau of Economic Research (NBER) have yet to agree if the U.S. economy is currently in recession, inflation and uncertainty across the global supply chain have plenty of businesses on edge. The ongoing strength of the job market has been one factor keeping many people from declaring today's market fully in recession. Despite two quarters of negative GDP growth in 2022, the labor market has remained strong. So strong in fact, it's one of the reasons the Federal Reserve has given for raising interest rates: to curb the "unsustainably hot demand" for workers, which keeps pay rates high and talent on the move.
With "unsustainable" ringing in the ears of business leaders, some are embracing recession era workforce tactics, from hiring freezes to even layoffs. For hiring managers, HR, and talent acquisition leaders, the struggle is to retain what has been gained across the workforce in the years since Covid losses. With unemployment still low and skill gaps wide in many critical sectors, including healthcare, life sciences and even tech, breaking trust with talent is a big risk to the employment brand.
What Should HR & Hiring Managers Do?
Recession or not, the need for a high-performing, committed workforce never changes. As interest rates rise and it gets more expensive for businesses to add talent, HR, and hiring managers are likely to be asked to "do more with less."
But here's the reality: businesses rely on talent as much in downswings as they do in upswings. With unemployment rates still at record lows, there is a competitive reality to consider. Hiring and salary freezes may only make your competitors that much more attractive to top talent.
What talent-centric organizations need to do in any rocky economic time is to maintain focus on consistency and the talent experience. Even if rosters can't grow, the goal has to be to avoid taking the workforce backwards.
Avoiding Panic, Maintaining Workforce Perspective
Here are six ways for people, talent acquisition, and HR leaders to avoid the pitfalls of workforce panic and keep a long-term view of the talent market:
1. Connect with Heads of Business. Talent acquisition and HR leaders know that businesses and heads of departments are being asked to make important decisions around costs and operations. This is the moment to meet with key players and explore how they see their go-forward plans affecting the workforce. Good questions to discuss in order to support and guide their strategies might include:
How do you see your recruitment plans and needs changing over the next six months? Over the next year?
What changes should employees expect to see around workplace culture, benefits and operations?
How can the recruitment and TA function best support the business right now?
2. Review Employment Promises. In recent years, businesses have worked hard to optimize the employment experience. Many employers made big changes to attract and retain talent amid unprecedented skill shortages and turnover, from remote and hybrid work to skill development, coaching services, and wellness programs. In a recession, the power dynamic shifts toward employers. Will employers maintain their newly minted employment value propositions? Will those promises change?
For organizations determined to hire and maintain great workers and professionals, those promises matter, recession or not. Today's workers still want an employer they can trust. Transparency and commitment to promises are key to retaining talent through challenging times.
3. Address Leadership Gaps. Times of change require great leaders and strong managers. Now is the moment for HR and TA leaders to work with their business teams to see where critical leadership gaps could generate added risk and turmoil amid a recession. 
4. Analyze All Talent Gaps & Hiring Wishlists. Once leadership issues are addressed, examine if other areas of the business are up against talent shortages that could prove highly detrimental in a recession. Where would a sharp economic downturn put teams in a crunch? 
And do the reverse exercise. Where might changing economics create overstaffing issues? By identifying both critical and uncritical hiring needs, talent acquisition goals can be realigned to fit the changing landscape with less disruption.
5. Check Your Competitors' Rosters. Even in recessions, employees get restless. A recession can be a great moment to recruit passive candidates from competitors or other industries that are breaking trust with their talent. Candidates who might be frustrated with their options or how their own companies have addressed the changing economy are ripe for recruitment and can be a big competitive win in a talent shortage. 
6. Stay Strategic. The worst move a business can make in a downturn is to toss the strategy and stop thinking about the future. Your workforce is all about where you are going and who will take you there. Adapt your recruitment strategy to meet new realities but do not abandon the values and promises that motivate teams. That's what gets a business to the other side of any challenge, recession or not.