How to Harness Recruiter and Hiring Manager Relationships for Greater Results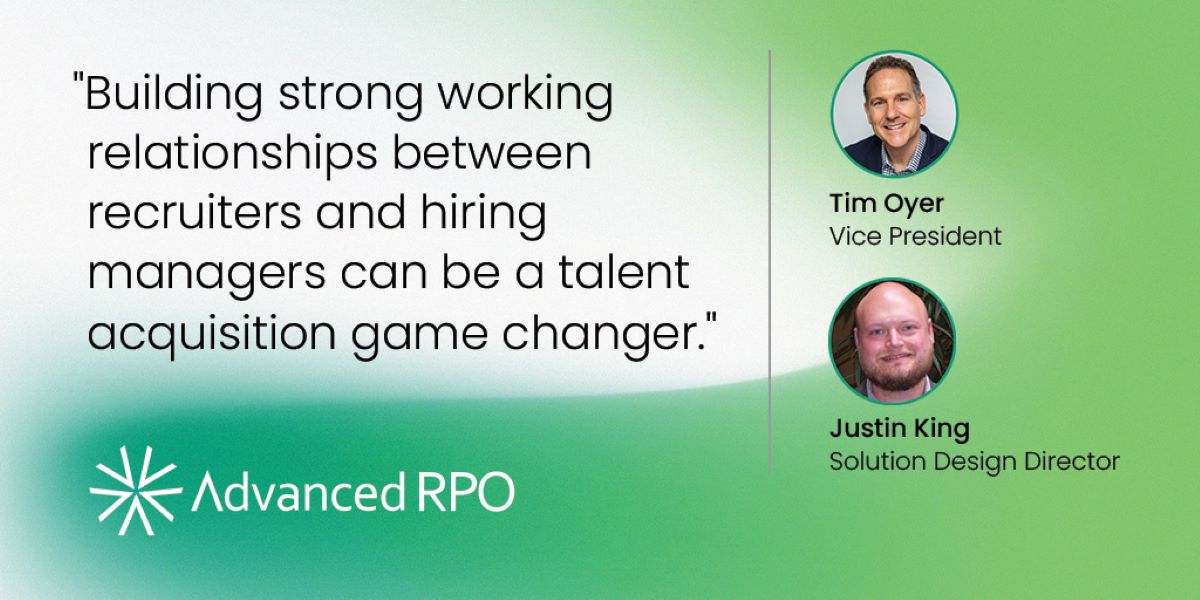 Recruiters and hiring managers both play essential roles in hiring talent and building a strong workforce. Their skills are often the difference between a mediocre hire and a great one who ignites productivity and provides a positive impact. But what happens to talent acquisition when these two recruitment players combine their talents and collaborate? The recruiting results are impressive:
Better candidates
Shorter time to fill
More strategic hiring decisions
Timely job fill rates
Increased hiring program confidence
Building strong working relationships between recruiters and hiring managers can be a talent acquisition game changer. Recruiters who are interested in leveling up their hiring results need to break down barriers that separate their work from the recruiting role hiring managers play. The creation of a highly collaborative working relationship ensures hiring managers engage their recruiters as trusted talent consultants, rather than job order takers, and rely on them to add efficiency and intelligence to the talent acquisition life cycle.
How can your recruiting teams begin to build more collaborative relationships with hiring managers? Here are five steps to get you started.
Step 1: Invest in Collaboration from the Start
Traditionally hiring managers and recruiters operate like wait staff and line cooks, giving and taking orders. Hiring managers quickly toss job orders to recruiters and the two work separately to get candidates to the proverbial table. Rather than a cursory handoff, consider a collaborative intake to share knowledge. In this pre-recruiting intake, the hiring manager is given the time to explain to the recruiter what they really need, how the job works, and what the measures for success on the job are.
This pause is also a time for intelligence sharing. Recruiters rely on ever changing market data to target talent. For example, supply and demand data as well as real-time salary numbers help recruiters understand talent availability and cost. Competitor talent data can guide recruiters toward employees who might be looking to change employers or identify companies that are competing for the same skill set. Giving hiring managers an advanced look at the data behind the strategy can help set appropriate expectations and gain their buy in from the start.
Step 2: Make the Recruiting Process Transparent
Few hiring managers know how much work, research, and data go into a strong search and recruitment process. That can be one of the reasons tensions rise between recruiters and hiring managers. How hard can it be to find good candidates? a hiring manager might wonder. They won't know unless you tell them.
To mitigate this, it is imperative that recruiters walk the hiring managers through the process, so they understand what is being done and why. This is also a great time to reiterate what is needed from the hiring manager, like feedback after slating, and calendar availability for interview scheduling. Providing complete process transparency creates greater trust and helps hiring managers become strong recruitment champions.
Step 3: Refine Must-Haves to Three
One often overlooked hiring roadblock is the job description requirements. While job requirements are not created with the intention of communicating "keep out," those that are too rigid or lengthy are doing the work of a foreboding guard dog. They send curious job candidates away whether they have potential or not. That's especially true for women. The oft-cited "Hewlett Packard report, Lean In, The Confidence Code, revealed that, for the most part, "men will apply for a job when they meet only 60% of the qualifications, but women apply only if they meet 100% of them."
To help hiring managers expand and diversify their candidate pools, recruiters can use this moment of collaborative job description creation to whittle down requirements to only those unbendable, must-have attributes. A highly effective approach is to partner with the hiring manager and determine three musts–the three essential qualifications that divide candidates who make it through the first round of vetting from those who don't. Focusing on these few essentials will simplify job descriptions, make requirements listings less daunting, and appeal to more candidates.
Step 4: Create Interview Questions
Is having more candidates applying a good thing? Yes, it broadens and diversifies the applicant pool, which is valuable. Nevertheless, it does mean more vetting work. It's important to narrow down that larger pool early on, and this too can be done as part of the recruiter-hiring manager collaboration.
Once the job description is finalized and those three requirements are selected, one more useful step is to map out phone/video interview questions. Work with hiring managers to determine what 2-4 key questions should be asked in that first interview phase to determine if candidates should make it to the next round of the recruiting process. The goal of these questions is to flesh out the candidate's technical capability and gain a glimpse into cultural fit. When done correctly, well thought out interview questions will be invaluable in not only narrowing the pool, but also in providing hiring decision data.
Step 5: Keep It Short
Just as you asked hiring managers to narrow requirements for candidates to three core qualifications/skills, do your hiring managers the exact same favor and deliver only your top candidates for the job. Honor their time and their collaborative effort in the first half of the recruiting process by using their insights and intelligence to identify the best few candidates.
Empower your hiring managers to make the final hiring decision. Oftentimes a hiring process gets extended because hiring managers start playing the consensus game, looking for approval from all those around before selecting the final candidate. But it's inefficient, time consuming and, in many cases, first-choice candidates won't wait and take another offer.
Remind hiring managers of all the requirements building, job description crafting, and vetting completed, which led to the small, select group of candidates. Encourage them to trust the process and the parameters they helped build by owning the hiring choice rather than sharing it. And, when needed, work with other stakeholders who might be unintentionally slowing the hiring to educate them on the speed required to find and select the right pro for the job.
Embrace the Partnership
Hiring managers and recruiters who do the work to become hiring collaborators and advocates can make big improvements to the recruitment life cycle. While it's an effort that will make both of their jobs easier, the most important benefit will be finding and hiring great employees who add to company culture and have the capacity to bolster business success.