Secrets to Soaring Employee Retention in a Time of Mass Talent Exodus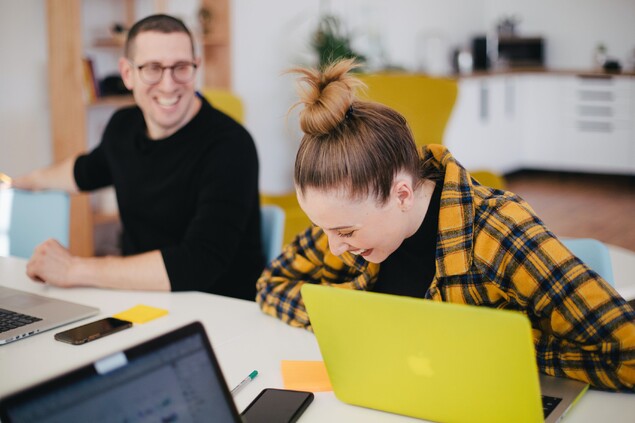 Exceptional Employee Retention in a Time of Unprecedented Turnover.
I've been thinking a lot about work lately. In my industry, recruitment process outsourcing (RPO), thinking about work is exactly what I should be doing. My days are focused on how to build better teams faster for our clients. We're figuring out the right combination of recruitment strategies, technologies, and market data to deliver candidates who ignite productivity and elevate performance. And while RPO design and optimization takes a huge chunk of my mindshare, I have also been thinking about my own work and realizing how this extra deliberation is something that has given me quite a bit of joy lately.
At a time when so many people are frustrated in their work and leaving their jobs, I find myself heartily invested in my job and my team. This January, Hubert Joly, the former Chairman and CEO of Best Buy, published a piece in the Harvard Business Review on "Human Magic." To Joly, human magic is the secret ingredient inside companies that thrive. When I read his piece, I realized he had identified one of the key elements I have been pondering when I think about the joy and gratitude I find in my work. Advanced RPO is a company with a remarkable alchemy—a kind of unique people-driven magic—that keeps our retention high and fuels our high-octane growth.
In this time of unprecedented workplace turnover and dissatisfaction, I wanted to take a moment and underscore what makes me so proud to be a part of Advanced RPO and what makes it an exceptional employer in these exceptional times.
Operational Excellence: It's All About Delivering Success
Is operational excellence a strange place to start when making the case for an outstanding workplace? I don't think so, and here's why. Everyone wants to be excellent at their job, but no one can do it alone. Not Tom Brady, not Elon Musk, and not the recruiters and solution architects at Advanced RPO. The consistently high standards of performance and established recruiting, strategy, architecture and diagnostic data processes at Advanced RPO have resulted in a workplace that gets the best out its teams and outstanding client satisfaction outcomes. For example, Advanced RPO has been named a Best of RPO winner by Clearly Rated every year since 2020 (when it was started). In addition, we have 93.8% Net Promoter Score, which is more than 10% higher than the average score of all 2022 Best of RPO Award Winners combined and more than 15 times the industry average.
On the job at Advanced RPO, those high standards and systematic processes give us great confidence. We can always count on our colleagues to deliver (over deliver actually) on their work and that brings both pride and relief. I never worry that the team might not come through or the back-office operations and technology are inadequate. Instead, like our Director of Business Development, Tanya Cohen, says in this post to colleague Kevin Armstrong, I am constantly amazed by the quality of work our team puts out, always motivated to up my game to do the same for them, and proud to be part of an award-winning RPO recognized for relentless excellence.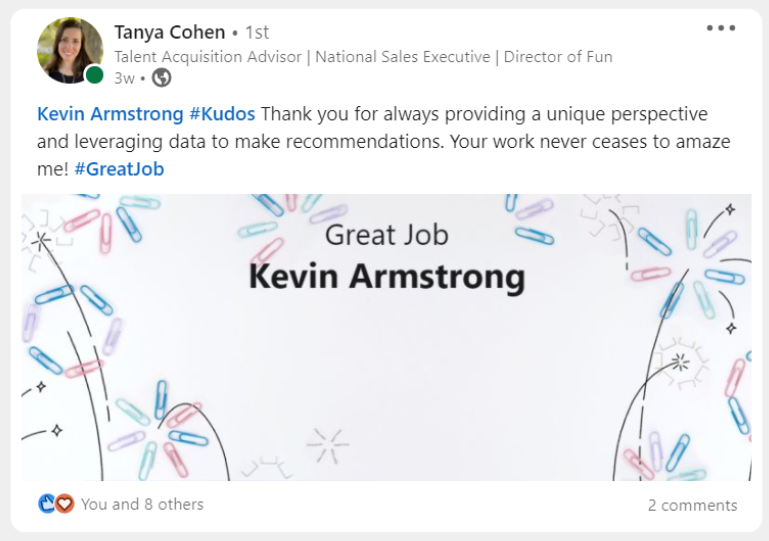 Intentional Growth: Today Is an Investment in Tomorrow
One of the main reasons leaders and HR leaders are hearing that talented, valued team members are leaving these days is lack of growth opportunities. Employees want to grow in their work but feel stuck. If they can't find a path forward with their current employer, they have plenty of opportunities elsewhere.
At Advanced RPO, we foster intentional growth for our business and, more importantly, for our talent. Creating a strong future for our business means creating learning and career opportunities for our talent. That comes in the form of career development, training, mentorship, succession planning, promotions and an empowering culture.
We are also big on recognizing the outstanding work employees are doing for our clients and for each other. This LinkedIn post from our President, Pam Verhoff, is just one little example of how we value and celebrate one and other.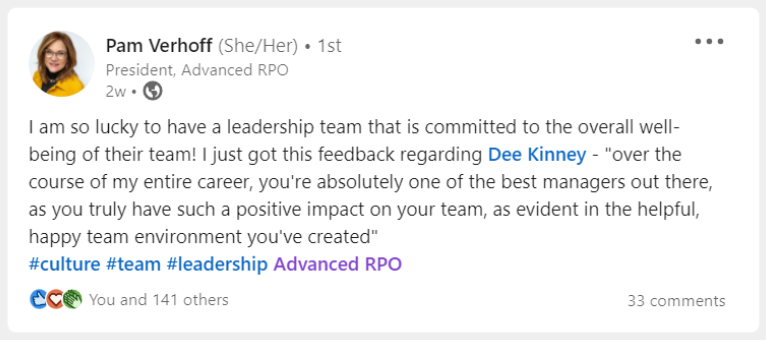 One colleague thanks her manager for taking such good care of the team and Advanced RPO's senior-most leader reminds us of all of how lucky she feels to have a team that takes care of each other. From top to bottom, it's a company that is intentional in how we help each other grow.
Employee Wellbeing: Caring about the Whole Employee
There are so many ways employers choose to care for their employees, but I am a huge fan of Advanced RPO's holistic approach that looks to care from employees from every angle. This LinkedIn post below from Advanced RPO Account Director, Mike Foster, is a perfect example of the good will that bubbles up across our workplace because Advanced RPO is looking out for its staff.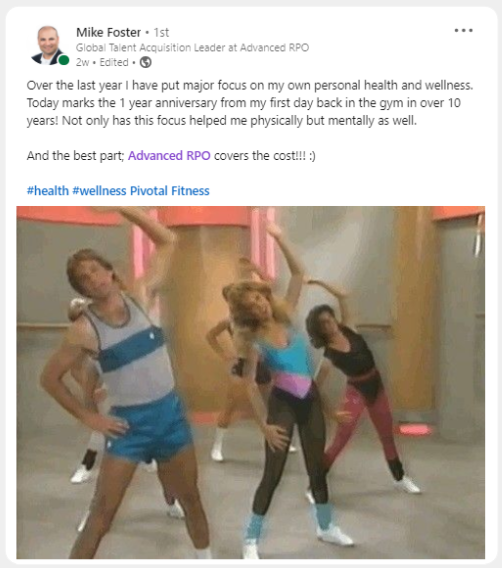 Without a doubt, Advanced RPO has an advantage when it comes to identifying what employees want and need. We have continuous insight into the benefits employees want most because we work in recruitment and engage with talent across the country. Our 2022 efforts for expanding employee care and wellbeing go beyond lowering healthcare costs. We are also boosting retirement benefits, providing health club membership reimbursement, and adding mental health services for our employees and their families.
As a talent organization, I really love that we walk the walk. Just as we advise our client businesses to create environments that nurture and care for talent, we are committed to doing the same for our people. That success can be seen in our soaring Glassdoor rankings, minimal turnover, and ability to recruit top talent from across our industry.
Here's to the Exceptions
At a time of high turnover and persistent resignations, it's reassuring to be a part of a workplace where people are looking out for each other rather than looking outside for opportunities. It's motivating to work with teams who embrace excellence as the starting point for the work they do. And it's inspiring to know that individual and company growth and rewards are intertwined. That's the magic equation that works for Advanced RPO, and I'm thrilled to be a part of it.
Engage with this blog via Tim Oyer's LinkedIn profile here.