Why RPO? Going Beyond Cost Per Hire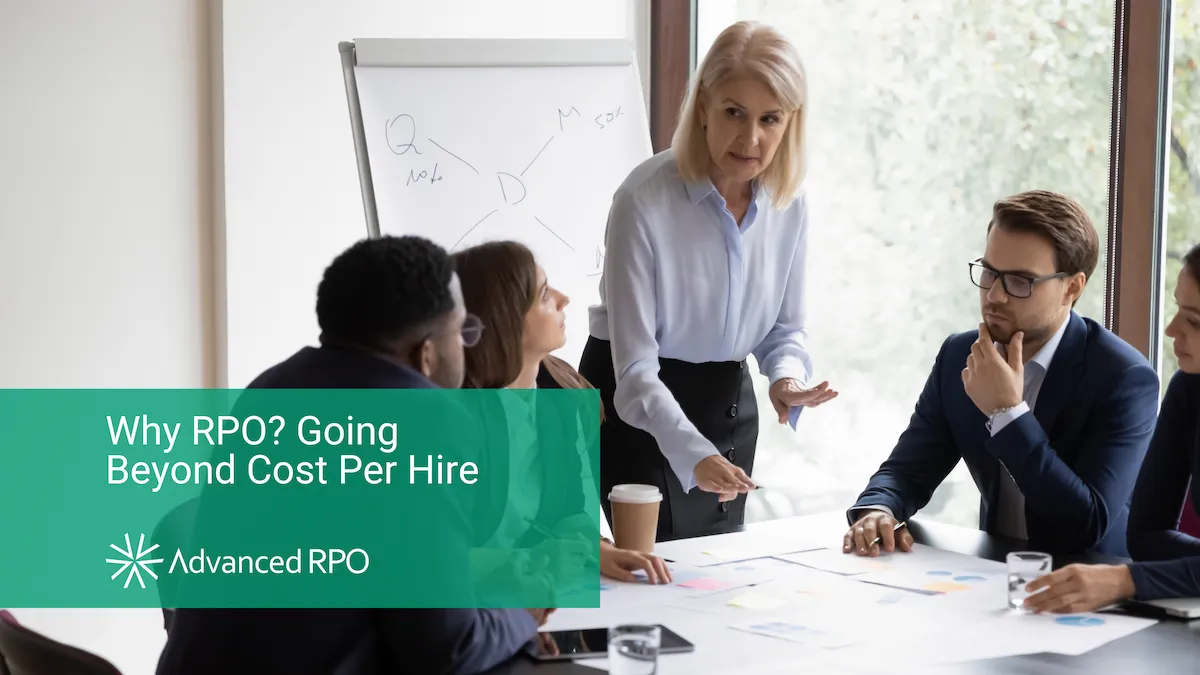 Companies are facing an uphill battle when it comes to finding great talent. That said, it's for reasons much, much bigger than the skills gap or any other current market challenge that exists today. It's because of an outdated perspective on recruiting and how success is measured.
Let's start with what we know.
Talent is a company's greatest differentiator, and finding great candidates is consistently ranked as a top three business priority among CEOs.
Cost per hire (CPH) is widely seen as the most important recruiting metric today. All decisions are viewed through the CPH lens, including whether or not to partner with an RPO.
What does CPH have to do with addressing one of the biggest business priorities? Very little. So then why do so many companies measure recruiting success by this metric? Because they see recruiting as an expense, not an investment.
Flipping the script from cost to value
Every other function of the business makes decisions based on value, not cost. Let's take marketing, for example. Is cost per lead a metric that they track? Of course. Is it how they define success? No. That's because bringing in prospects is critical to business survival. Prospects are an investment for the future. More customers drive more revenue, and that offsets the cost of acquiring them.
What about employees? The very same can be said. Not only would businesses not survive, but they would fail to exist without the people who bring their products and services to life. HR invests in their employees through development, engagement and recognition programs, but attracting talent is seen as a business expense rather than an investment in future business success.
What businesses need to measure is recruiting's impact on business outcomes. Instead of asking "What's the cost?" they need to ask "What's the ROI?". Certainly some of the traditional metrics come into play, such as time to fill and quality of hire and yes, even CPH. But they must be understood as a whole instead of in silos to meaningfully interpret how they are impacting the business.
How an RPO puts metrics into perspective
Recruiters are being met with new rules of engagement in today's era of work. Nearly everything has changed, from 100% socially distanced processes to where candidates are and what they want from employers.
All of these changes are putting new pressures on recruiters, and their limited viewpoint and inaccurate measurement of their performance puts them at a disadvantage. At best, they've been getting by. At worst, they're limiting their business' potential beyond repair.
An RPO partner is seeing all of these new challenges across their entire customer base, experiencing them on a larger scale and learning how to adapt more quickly than internal recruiting teams. They are developing best practices in real time for hiring for remote positions, where to find cost-effective talent moving out of big markets and counseling clients on how to alleviate the new concerns of candidates.
Just what does an RPO partner do to positively impact business outcomes? Here are just a few.
They can ensure your recruitment process is aligned with your business goals and objectives, whether it's getting roles filled quickly or building a pipeline of talent for future needs.
They can strengthen your employer brand by delivering an experience that meets the needs of today's candidates.
They can free up your internal stakeholders to invest their time strategically in the process rather than the time-consuming tactical work.
They can bring new tools, technology, tactics and methodologies that your internal team might not be aware of or having funding to invest in.
They can provide more insight into the process, including where your recruiting strengths and weaknesses lie, via data analytics and dashboard reporting.
They can flex up and down based on the state of your business in real time.
If your business views recruiting as a cost center vs. an investment in your future business success, Advanced RPO can help you understand how to view your CPH in the context of other metrics as well as how the benefits of an RPO can help elevate your hiring strategy. Listen to our SVP John Hess talk about the topic on a recent HRO Today podcast.
Recruitment Process Outsourcing (RPO) solutions from Advanced RPO can help you evaluate and improve your hiring processes to get the talent you need to succeed. Contact us today to learn more about our high-touch solutions.