Three Factors for Creating (and Improving) a Positive Candidate Experience
Why respect, transparency & speed can improve your hiring process
If you were narrowing down the most important factor in hiring for your organization, what would you pinpoint? Some point to competitive salary, desirable position or a respected company. Those factors matter.
But candidates in our recent study put major emphasis on three key areas: respect, transparency, and speed.
Why is candidate experience important?
Candidate experience is the first impression your potential employees have of your company and your culture. It sets the tone. It also creates the foundation for trust, loyalty, dedication and retention with your workforce. Even when candidates are rejected, a strong candidate experience can leave them with a strong impression of your employer brand and be willing to apply for the right job in the future — or even refer great candidates for other roles. 
Your candidate experience begins even before applying for a position and continues, when you find the right hire, through recruiting your candidates, interviewing them, onboarding and then training.  Every touchpoint with your organization impacts and can improve the candidate experience.
Three factors that create a positive candidate experience
1. Demonstrate respect
Think about a time you went through a job application process. Did you feel respected, or did you feel like just another candidate on an endless assembly line of potential candidates? One of my favorite things to do when recruiting was look at a candidate's resume to find an interesting highlight or point of connection to ask them about.
It was simple and took only moments, but to see their face brighten up with the chance to talk about something important to them was always enjoyable to see. In our study, we actually asked the question about this to understand how candidates want to be respected in the hiring process.
Chart: Demonstrating Respect for Candidates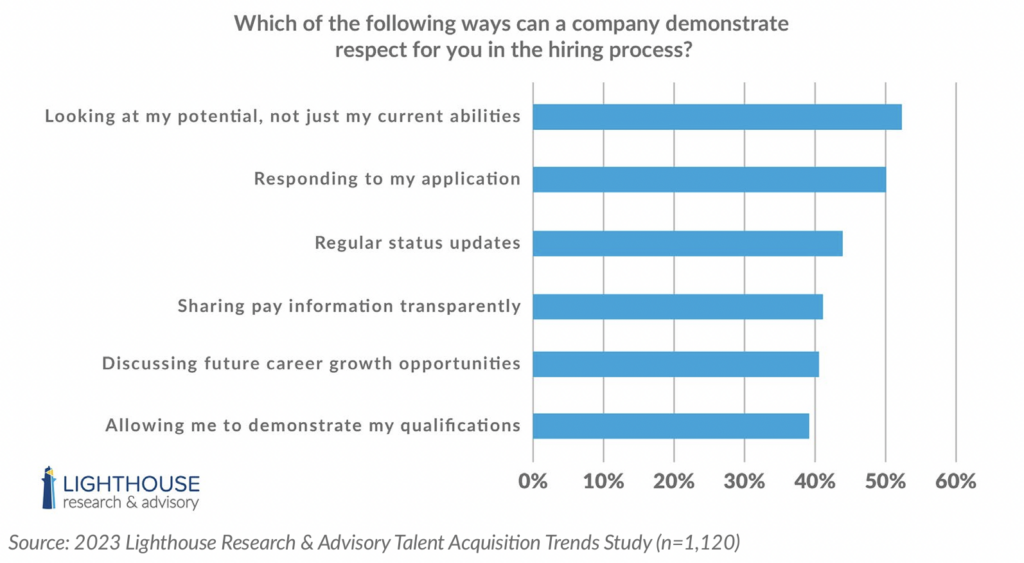 The most important way we can show respect for the people who are considering a role at our organizations is to look at them not just for who they are today, but for who they can be tomorrow. This closely echoes a finding from last year that showed two out of three candidates prefer a screening assessment or process that evaluates them for their future potential. It makes sense.
Changing jobs is difficult, emotionally taxing, and sometimes unpleasant. If we can assure our candidates that we have already thought about their future success at the organization, that helps us to stand out from the sea of other employers that just "need a body" to fill another job.
2. Transparency (about more than pay)
Recently, one of the most pressing topics in hiring transparency has revolved around pay transparency. While it has been required by law in some locations, we're seeing widespread adoption because it helps to level the playing field from a pay equity perspective and because it's a great way to attract the right candidates.
In an experiment, we showed candidates two job postings to see which they would be more likely to apply for. The one with a clear pay range was preferred 85% of the time! Including pay data on a job posting is shown to reduce advertising costs and increase application rates, but if you haven't yet started doing this, it can seem overwhelming.
According to Mike Foster at Advanced RPO, "One of the biggest challenges with sharing pay data externally is making sure you are careful about your internal equity. If you are posting pay ranges higher than your current staff earn, you will have friction and potentially turnover as well."
Our recommendation is to start there. If your internal equity isn't where it should be, start making progress in that area before you post publicly. It's possible to post a wider range externally, too, which can give you additional time to navigate any other internal changes to support pay transparency.
3. Speed & efficiency
While speed has been one of the biggest priorities for employers looking to snag that great candidate before someone else can, it also shows up as a priority for candidates as well.
Primary reasons for candidate ghosting, two of the top three come down to speed:
The job or company didn't interest me after I learned more about it.
I took another job.
The hiring process was too long and complicated.
If we want to reduce ghosting and increase the predictability of hiring, we have to speed things up. Other companies are developing more streamlined processes for evaluating candidates, matching them to jobs, and screening them for fit.
If you haven't yet begun to operationalize those activities, you're going to start falling farther and farther behind.
One final data point: in our first question to candidates, we always ask what their top priority is in the hiring process. Number four on that list this year is "a fast application process that respects my time." It's not enough to just speed up how fast we schedule a phone screen or how quickly we set up an interview. If our application process is painful or burdensome, we won't get the candidate throughput that we need.
Respect, transparency and speed are critical success factors in today's hiring activities
Having one without the others is like having a car without seats or a windshield. It may technically function, but it won't be nearly as effective and efficient overall.
How to measure your recruiting function
There's more to measurement than occasionally reporting static numbers. Analyzing your recruiting data creates a dynamic feedback loop that helps your organization evaluate the health of your hiring activities. Knowing what to measure and how can drive better candidate experiences and greater hiring manager satisfaction.
It can feel like a lot to take on — as a team or an organization. But starting with a few key elements that matter to your organization can make your growth as a data-driven recruiting operation more manageable and sustainable.
Learn how to start measuring your recruiting function for impact ›